Dark Field Microscope
OPTIKA B-510DK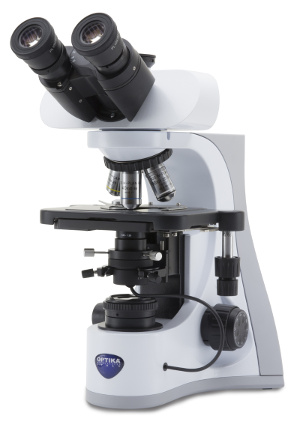 The dark field microscope OPTIKA B-510DK manufactured by OPTIKA has been designed for use in laboratories and especially for LBA examinations. It can be combined by adapter with SLRs or microscope cameras for the live image transmission to a monitor and for recordings.

Microscope Head Type: Trinocular observation head, inclined 30° and rotatable 360°.

Objektives: Plan-achromatic, infinity corrected objectives: 4X, 10X, 40X and 100X. The 100X-objective is an oil immersion objective with built-in iris (see image below). All objectives are treated with an anti-fungus treatment.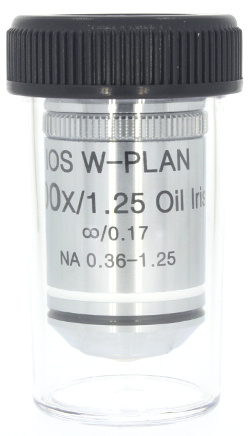 Condenser: This is the core part of the dark field microscope. It has an integrated high-power LED with adjustable intensity (Colour temperature: 6.300K, LED life time: ca. 50.000 hours)




Technical Specifications: Dark Field Microscope OPTIKA B-510DK (PDF)
HD Microscope cameras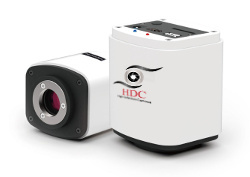 For the live view and recording we offer two high resolution HDC models (abbr. High Definition Cameras):
HDC-DF4L - UHD-resolution (3840x2160), HDMI- and USB-interface
HDC-DF1 - HD-resolution (3840x2160), HDMI- and USB-interface
Both models are equipped with highly sensitive SONY sensors suitable for difficult light environments such as dark field or fluorescence microscopy. Below you can find a summary of their main features.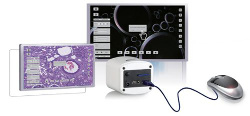 HDMI Operation Mode
: this is a special feature of these models: in HDMI mode, the supplied mouse can be connected to the USB port of the camera. With the mouse you can then activate the on-screen menu and use it to take pictures and videos and control all of the camera settings.
Multi signal output
: The cameras can be connected directly to a HDMI monitor (via their HDMI port) or to a PC (via their USB port). You can even use both outputs in parallel. In HDMI mode they achieve up to 60 frames/sec in full resolution!
Flexible exposure times
: In addition to auto-exposure mode, the cameras allow you to adjust manually exposure and gain, which we highly recommend for dark field applications. The exposure time can be adjusted nearly step-free (graduation: 1 ms).
Zoom – mirror - compare
: Both the on-screen menu (HDMI mode) and the PC application offer zoom functions and the ability to mirror the image horizontally/vertically. In addition, you can divide the screen vertically in two halves: one half shows the live image and the second an existing image from your image gallery to compare preparations.
Built-In Player
: Already taken pictures and videos are stored on the removable SD card of the camera. You can browse through them and have them played by the camera on the HDMI monitor - without a PC!
Technical Specifications:
HDC DF1(pdf)
and
HDC DF4L (pdf)
SAMSUNG UHD/HD Monitor

The ideal complement for your darkfield equipment with a high-quality and robust monitor from SAMSUNG. All offered monitors are reflection-free and 100% compatible with the cameras of each bundle. We currently offer 32" UHD monitors (3840 x 2160 pixels).

Optical Adapter 0,5X

With these optical adapters, you can connect our microscope cameras to the trinocular tube of the B-510DK darkfield microscope and capture photos and HD videos.

Our adapters have a variable focal length integrated optics so that the focus deviation between the image you see through the eyepieces and the image on the screen can be eliminated.
Consumables

Our darkfield starter kit includes everything you need in order to operate with the darkfield microscope and start working immediately. The contained products come from reputable manufacturers. The individual products can also be purchased separately via our webshop.